---
be less than the numeral used.

For example: A stocking measuring 9½" or 95⁄8" or 9¾" may be marked—"Size 9½" but a stocking measuring 93⁄8" or 9¼" may not be marked "9½" but may be marked "9" .

The method of measuring the size of foot of Fully-Fashioned and Seamless Hosiery is to lay the stocking out on a flat surface, without tension—with the toe turned to the right,
making the heel left. (This is opposite to the American practice, although this does not affect the measurement Fig. 58.) This rule also applies when measuring the length of the leg.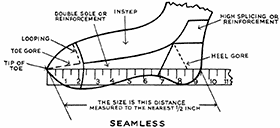 AMERICAN AND CONTINENTAL PRACTICE
It should be noted that the word "Full-Fashioned" appears under the diagram for American measurement. This is the American version of our term "Fully-Fashioned".