---
"footer" and "legger". (Sometimes the yarn used on the "footer" does not exactly match that of the "legger" in type, size and quality.) See fig. 57.

7. Streaks in the fabric—visible sinker stripes and needle lines.

8. Trueness of dye colour—note sharply defined colour contrasts or shadings.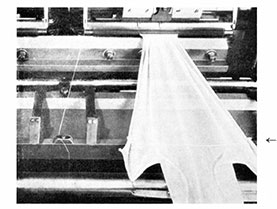 9. Elasticity of tops and badly mismatched welts.
Being satisfied on all these points, the folder then hands the stockings to the transferring section, where every stocking gets a brand-name stamped on to its fabric by means of a stamping-iron which transfers the name from paper.
This operation finished, the stockings are returned to the folder. Each pair is folded, and usually six pairs are placed in a box—being protected by paper fly-leaves. (Sometimes these two processes take place in reverse order.)
The finer sheers, chiffons and georgettes are individually sealed in attractive cellophane envelopes, afterwards being boxed.