---
in the fabric by small marks right and left of the seam. In the next knitting course, the needles carrying the two loops act as though carrying one only.

Fig. 32, photographs 1 to 7, show the narrowing point movements.

1. The knitting action is temporarily suspended while the operation of narrowing the fabric takes place. In the illustration, the needles are positioned ready to accept the narrowing points.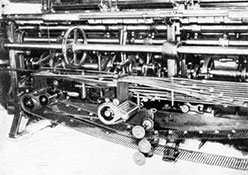 which can be seen above the end of the needle bed (right hand).

2. The narrowing points have descended behind the needles, and the needles move towards them in such a manner that the beards of the needles are buried in the groove of the points. The tips of the points are likewise pressed in the needle grooves below the tips of the beards, and in this position loops can be passed from needle to narrowing point (and vice-versa) without being "cast off".

3. The downward movement of the needles and points causes a definite number of loops to be pushed up the needles and on to the points so that the loops will cling to them.

4. The needles and points now rise to such a position