---
The Auto-Heeling machine automatically joins the heel to the sole, dispensing with the side-linking operation.
2. The heel-tabs, together with the fabric at the end of the toe, are linked on a linking machine.
3. The foot bottom and the back of the leg are closed by a seaming operation.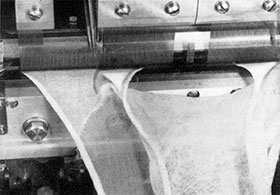 When hosiery is knitted on either Seamless or Fully-Fashioned machines, the manufacturer always has in mind that the stocking knitted must be form-fitting, and by reason of its inherent stretch and elasticity—due to the knitted loop used—the fabric should conform closely to the various dimensions of the leg. By virtue of this knitted loop, reliance is placed on the mechanical stretch and the elastic ability of the fabric loops to adjust themselves to leg dimensions varying from the general, the stocking being called upon to adjust itself to a range of volumes in respect of foot, ankle, calf and thigh, and to a varied stress due to differences in weight and stature.
A further important factor to be taken into consideration during the making of a hose is the individual character of the fibre used, silk, cotton, rayon and nylon each having special