---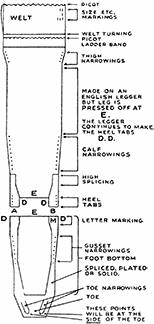 the addition of a special mechanism required to give different narrowings required for the toe. The foot being shorter, fewer Footers than Leggers are required to make a balanced plant. Factories require one Footer to two Leggers, or one Footer to three leggers according to the type of hose produced.

Making-up Operations.

1. The welt is formed by doubling over the upper part to give the necessary strength at the top.

2. The leg is narrowed at the thigh, after which a straight portion is worked until the calf narrowings are put into shape in conformity with the shape of the leg.

3. Part of the leg fabric is pressed off the centre needles at "E". The legger continues to make the heel–tabs, "DD".

4. The heel tabs of this legstocking–blank are turned outwards, forming a straight line "D E D". This straight portion is run on to a transfer-bar, loop by loop.

5. These loops, by means of the transfer–bar, are transferred to the needles of the French–footing machine and the diagram shows the difference between the method of making this foot and the English foot.

6. Parts "A" and "B" are joined by the linking operation, as is the toe also. The leg and foot bottom are seamed, thereby finishing off a complete hose.