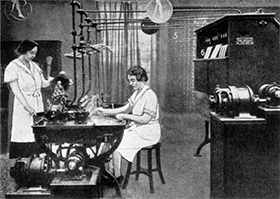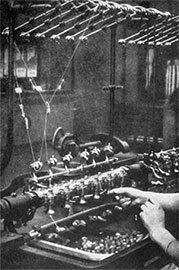 FIG. 9 (on right)
CLOSE VIEW OF THE SPINNING-BASIN The arrows show the run of the thread.
1. The spinner holds the beginning of the threads of the cocoons in her left hand. 2. The individual threads are connected to the rotating plate with the right hand.











FIG. 8 (above) REELING MACHINE1. Spinner connecting the individual cocoon threads. 2. Spinning-basin. 3. Brushing apparatus with prepared cocoons. 4. On the opened brush. 5. Silk thread running to the reeler. 6. Spun filature.